The 2017 Unite in AXA pay survey can be accessed here.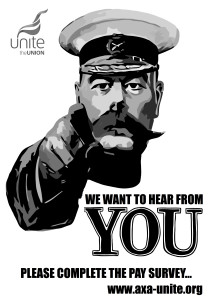 4 Comments »
Abdel Gulabkhan Said,

Pay is very low – in april 2016 we got a pay rise of £80 which is terrible
We took on many new products and the workload increased by 50% with no extra pay for nearly the whole year
Many people left the company as the pay was so poor
Especially for CSRS working in South East UK like Ipswich where there are 6 insurance companies around Axa that all pay CSRs around £19000 to 22,000 starting – Axa is the lowest

The whole year has been incredibly busy and the pay is just far too low

I complained to management many times
this is what I said:

We have lots of new products added which means a lot more work related to Halifax URCA, Halifax Stand Alone and BoS URCA, in the evenings 5pm to 8pm and weekends there is over whelming pressure on these lines, even during the days these lines can be extremely busy.

I was in Sunday 12/06/2016 and at 13:05 there was approximately 7 calls waiting on Halifax URCA with LCW 30:12, Halifax standalone 1 Call waiting and TSB AVA 1 call waiting. The rest of the lines like Lloyds AVA had nothing at all. This continued to get worse with 11 calls waiting on Halifax URCA with LCW at 38 mins.

So the situation was there was people trained Lloyds AVA taking no calls at all as there was nothing coming in on just the Lloyds line and the few people on Halifax working much harder dealing with the high volume of calls.

Now the point I am making is about work load and pay. Normally if you do more work and more products you get paid for an increase in your work load which is not the case in the call centre.

The experienced people who have worked really hard over the last 9 months since Halifax started should get a pay rise for the considerable increase in work load to a CSR who has just started and is on the same pay for being trained in just one product.

I hit my KPI's every month without fail, every single month I hit B & R and Customer Experience with all the extra work on the other lines.

Now I can see the training is being implemented which is good progress however if they just get trained on Halifax they should not get the same pay as experienced CSRs who have been doing the product since it started for nearly a year on the lines.

There has to be recognition of the hard work that the few CSR's have put in since all the Halifax has started nearly a year ago with a fair pay rise if that means automatic rating 1 or some kind of pay bonus to say "Thank You" then this should be considered and implemented.

I don't think it would be fair if all CSR's got a tiny pay rise, basically the New CSR s to the department get all the best deals – less calls, less work, same pay and a grace period for KPI's- how is that fair to an experienced CSR with all the product knowledge and working on 9 products hitting all KPI's every month.

I know many of the experienced staff feel like this as they talk to me and bring up these issues regularly which I totally understand.

I am very positive and would always help out but there has to be a dynamic approach with the CSR levels. For example at ECC call centre where I worked nearly 5 years I was a high performing experienced CSR so I was put in a higher pay band as I was trained on all products this means my basic was 18,500, now a new CSR who has just joined would be on a lower pay band and get 16,000 relative to low experience and low knowledge.

In this centre all CSR's get the same basic salary with no pay band for experience, being trained on many more products and much higher work load. For many of us this is not a fair policy.

I appreciate all your help and you are working to help us which is really positive. I think things will improve as more staff are trained, but there has to be some recognition for the huge workload increase to the few experienced CSR's who have taken this on board since Halifax was implemented nearly a year ago. These experienced CSR's have worked very positively with no extra pay and had much higher workloads with higher work pressure than most of the other CSRs. Now if a new CSR gets an end of year rating 2 for example only doing for example 3 products is that justified pay bonus fair to an experienced CSR trained on all 9 products hitting KPIs but gets a 3 rating. The new CSR gets the best pay and better deal.

My point is the only recognition for extra pay is end of year ratings that do not reflect the number of products and work load. You could be trained on all products and do double the work each month and get less pay on your end of year rating than a new CSR who has performed well on just a couple of products. That is not a fair policy. There has to be some kind of pay rise or bonus recognition scheme for this huge workload increase for experienced CSR's so it's fair to all, rather than all the benefits for new starters.

Nico Lowe Said,

Pay should be reviewed for the experienced that are still within the lower end of their pay range. The result of increasing the starting salaries has closed the gap so the experienced workers are not rewarded. Five years in my role currently equates to £1,000 more than a new starter, and I am expected to assist with their development and also be a referral point.

Elliott Parry Said,

I do find that that payment is good and fair to the level that I am currently at but I do agree with the understanding that if you have been working for AXA for a number of years there is no grace or thank you that is noticeable in the pay

Tracy Frost Said,

The pay for the work I do is not suitable. I stay with AXA but not for the salary.
Leave a Comment